Bruce Lee Training Equipment & Gear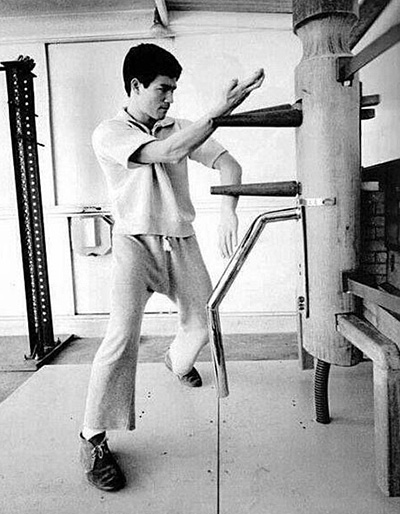 Here's where you can find all the best-rated modern-day equivalents or approximations of the same training equipment that Bruce Lee used for his own workouts.
The sections are divided between Weight Training Equipment, Cardio Fitness Equipment, Isometrics Equipment, Six-Pack Abs Equipment, Stretching Equipment, Vitamin Supplements, Diet Stuff, Martial Arts Equipment and Cool Random Bruce Lee Stuff. All Bruce Lee equipment web links go directly to Amazon.com.
A note to Bruce Lee Equipment readers:
This site's author has personally curated all of the Bruce Lee gear here for top athletic performance and quality. Every weight lifting, cardio & martial arts piece of equipment listed for purchase holds an Amazon rating of at least 4 out of 5 stars. You can buy the equipment today by clicking on any item's Amazon.com link.
In many instances, the Bruce Lee equipment on sale here trump anything that Bruce may have used in the 1970s simply because science and technology never stop progressing and sports science has come a long way towards maximizing athletic performance since 1973. Get the best and highest-rated Bruce Lee training equipment below.
Buy Bruce Lee Training Equipment!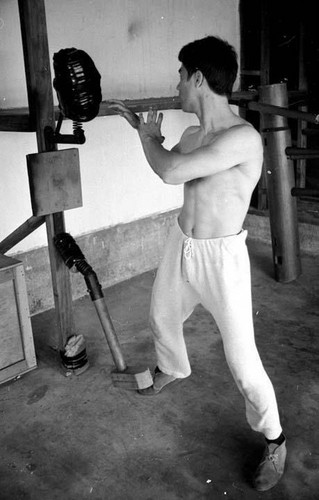 Bruce Lee Weight Training Equipment
For lots of great information on Bruce Lee muscle growth, muscle definition and cross training, visit the Bruce Lee Workout homepage.
Bowflex SelectTech 552 Adjustable Dumbbells (Pair)
Each of the two weight training dumbbells adjusts from 5 to 52.5 pounds and lets you rapidly switch exercises using a unique dial system. If you only get one piece of training equipment, these safe and convenient Bowflex weight training dumbbells should be it and work extremely well in most of your Bruce Lee exercises!
CAP Barbell 110-Pound Weight Set
This is a basic beginner weight set for bodybuilding. The weight kit includes 6 x 2.5 lb, 6 x 5 lb and 4 x 10 lb. weight plates, a 5′ standard bar and 2 x standard dumbbell handles. This is a great affordable starter kit for your Bruce Lee weight training workout.
Bowflex SelectTech Adjustable Bench Series 3.1
This weight training bench adjusts to four different positions for over 30 different exercises. It includes a removable leg hold-down brace and wheels away for easy storage.
Weider Ultimate Body Works Incline Bench
Adjustable incline bench on wheels with a pulley on each side. Features resistance bands and a cable & pulley system.
Perfect Fitness' Perfect V2 Elite Push Up Handles
These push up handles help you engage more muscles in your Bruce Lee workouts. This push up bar features a smooth rotation steel ball bearing system and 400-pound weight capacity.
Bowflex PR1000 Home Gym
Get total Bruce Lee body strength with this affordable home gym. It provides as little as five or as many as 210 pounds of resistance and features over 30 exercises.
Bowflex Blaze Home Gym
This Home Gym has more than 60 gym-quality exercises. Includes a lower pulley/squat station, a lat tower with angled lat bar, a leg extension/leg curl attachment and 210 pounds of Power Rod Technology resistance (upgradable up to 410 pounds).
Workout with Bruce Lee Equipment!

Bruce Lee Isometrics Training Equipment
For tons of Bruce Lee isometric workouts, visit the Bruce Lee Isometrics page.
Black Mountain Isometrics Resistance Band Set
This kit for isometrics comes with five 2 to 30 lbs. resistance bands that can be combined together for different levels of isometric resistance. Includes a door anchor, ankle strap and carrying case.
iGrip Portable Isometric Trainer
Electronically measures push and pull force with a 200-pound resistance capacity for Isometrics workouts on the go.
Oozeeki IsoStrength Complete Body System
This isometric training device does not require a door anchor, instead using foot straps for resistance training. It's perfect for travel and vacations.
Bullworker Isometrics Fitness Bar
This modern update of the famous isometrics workout bar from the 1960s has been tuned and improved for current resistance training workouts. It now combines classic, steel-bow, bow extension, sit-at-home fitness and iso-bow fitness programs with barbell, dumbbell, suspension and band resistance type exercises. Over 100 lbs of resistance from a 2-pound device.
Get Bruce Lee Gear
for Workouts and Weight Training Exercises!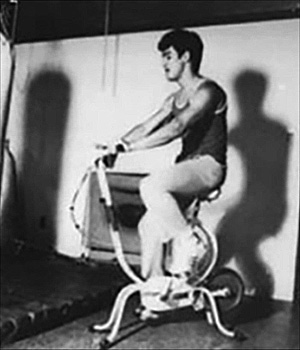 Bruce Lee Cardio Fitness Equipment
For Bruce Lee aerobics workouts, visit the Bruce Lee Cardio Fitness page.
Valeo Jump Rope
This extremely popular fitness jump rope features an adjustable 10' rubber rope, sealed ball bearings and foam weighted handles with removable 1 pound weights.
Marcy Upright Mag Cycle
This high-value fitness bike features a smooth magnetic pedaling system with 8 levels of resistance and a large console display that tracks time, distance, speed and calories burned.

Bruce Lee Six-Pack Abs Equipment
For Bruce Lee six-pack training, visit the Bruce Lee Abs Workout page.
Iron Gym Total Upper Body Workout Bar
This ab workout bar is ideal for sit-ups, crunches, pull ups, push ups, chin ups, dips and more. Features no screws and 3 grip positions.
Perfect Fitness Ab Carver Pro
This is not your dad's old school ab roller. This six-pack kinetic energy ab device features an ultra-wide stabilizing wheel, rubberized non-slip ergonomic grips and foam knee pads.
Weider Power Tower Ab Station
This training equipment for abs has it all: pull-up, push-up, dip and vertical knee raise (VKR) stations. Comes with padded grips and durable vinyl cushions.

Bruce Lee Stretching Equipment
For more information on Bruce Lee flexibility training, visit the Bruce Lee Stretching Routine page.
OPTP Stretch Out Strap
This stretching strap delivers the benefits of PNF stretching without a partner. Includes a stretch strap exercise guide.
North American Healthcare Foot Rocker
This stretching aid helps attain the optimal foot position for safe and effective stretching. One size fits all. It also relieves pain from plantar fasciitis, Achilles tendonitis, ankle strain & arch pain.
Get Amazon.com Deals on Bruce Lee Equipment!

Bruce Lee Supplements
For lots of information on Bruce Lee supplement and vitamin plans, visit the Bruce Lee Diet page.
Nature Made High Potency Magnesium Liquid Soft-Gels (400 mg, 150 count)
Magnesium is one of the body's main electrolytes that participates in more than 300 reactions in the body, with an emphasis on those involved in energy production. They will also make you piss more, therefore ridding your body of water weight and help your body look more defined.
Jarrow Formulas Inositol Capsules (750 mg, 100 count)
Inositol is found in many foods, especially high bran-based cereals. It plays an important role in cell membranes health, especially for the brain, bone marrow, eyes and intestines.
Now Foods Sunflower Lecithin Soft-Gels (1,200 mg, 100-count)
Lecithin is a fat mixture of glycolipids, triglycerides and phospholipids. It is a key building block of cell membranes. Bruce Lee believed lecithin improves athletic performance for trained athletes.
Nature's Way Vitamin-C Capsules 1000 with Rose Hips (1,000 mg, 250-count)
Vitamin C, is a potent antioxidant with increasingly diverse uses in health promotion and disease prevention. Some of the many uses include improving physical endurance and slowing aging.
Eden Pond Queen's Magic Bee Pollen Capsules (750 mg, 120 Count)
Bee pollen is a mixture of the pollens picked up by bees as they fly from flower to flower. It is a popular folk remedy for many conditions, including sports performance. These organic capsules also contain propolis (1,000 mg) and royal jelly (1,500 mg).
Nature's Bounty E-400 IU Natural Pure "D-Alpha" Vitamin E Softgel Capsules (400 IU, 100-count)
Vitamin E promotes heart health and healthy circulation. It is also an exceptional antioxidant for the immune system and skin. These softgels feature the 100% natural "d-alpha" form of Vitamin E.
Garden of Life Vitamin Code Raw Vitamin E (125 IU, 60-count)
If you feel like spending a little more money on totally natural, untreated and organic ingredients, then check out these Garden of Life vitamin E supplements that are raw, gluten-free, dairy-free, vegetarian, non-GMO and contains no binders or fillers. They're made of a probiotic and enzyme blend along with a raw organic fruit and vegetable blend for added nutritional support.
VoilaVe Organics 100% Pure and Organic Rosehip Oil
Rosehips are packed full of vitamin C and other antioxidants, vitamins, and minerals. They also contain a substance that fights inflammation.
Now Foods Wheat Germ Oil Soft-gel Capsules (1,130 mg, 100-count)
Wheat germ oil is extracted from the germ of the wheat kernel and is particularly high in octacosanol, an exercise and physical performance-enhancing agent. It is also a good source of Omega-3 fatty acids and vitamin E.
Natural Protein Tablets
Protein is the building block of muscles and essential for repair and growth of muscle after exercise. Research shows that protein consumed before exercise and within 30 minutes of finishing your workout will help with growth and recovery.
Nature's Blend Honey Flavor Protein Tablets (500 mg, 200-count)
American Health Super Acerola Plus Chewable Berry Wafers (500 mg, 100-count)
Acerola-C is derived from a small shrub native to the West Indies. It is one of the richest sources of vitamin C and also contains vitamin A, thiamine, riboflavin, niacin, calcium, iron, potassium, magnesium and bioflavonoids.
Nature's Bounty Super B-Complex Vitamins with Folic Acid Plus (multi-mg, 150-count)
B vitamins provide essential nutrients for the cardiovascular system. They include vitamins B-1 (thiamin), B-2 (riboflavin), B-3 (niacin), B-5 (pantothenic acid), B-6 (pyridoxine), B-7 (biotin), B-9 (folic acid) and B-12 (cyanocobalamin).
For our Bruce Lee diet readers who want more modern nutrition, here are three additional supplements commonly used by the today's best athletes in their workout routines:
Optimum Nutrition Unflavored Creatine Powder (600g, 114 servings)
Clinically-proven, creatine aka creatine monhydrate helps gain size and strength as well as cut recovery time. Bruce Lee did not have creatine around when he was alive, but most believe he would have used it in his Bruce Lee diet.
Nature Made Omega-3 Fish Oil Soft-gel Capsules (1,200 mg, 300-count)
Omega-3 are essential fatty acids the human body doesn't produce on its own. It aids the joints, heart, brain and eyes along with many more benefits.
Nutrigold Vitamin D3 Softgel Capsules (5,000 IU, 360-count)
Vitamin D is critical for strong bones and helps the body absorb calcium from food.
A note to Bruce Lee supplements readers:
The Bruce Lee supplements that Bruce used were popular among bodybuilders during the 1960s and early 1970s. Some of the health supplements in an original Bruce Lee diet may now be usurped by new ones which produce better results. Any supplement can have side effects if taken to excess. Please do your own research before making any dietary changes and consult a doctor or licensed physician before starting a weight training or weight loss Bruce Lee diet.

Bruce Lee Diet Stuff
Easy Chinese Recipes: Family Favorites From Dim Sum to Kung Pao
This 5 star Amazon.com reviewed Chinese food cookbook features over 80 great Chinese cuisine recipes using ingredients found in local supermarkets. "Easy Chinese Recipes" is awesome because everything is clear and every recipe is easily accessible. This cookbook is highly recommended for a Bruce Lee diet.
Mastering the Art of Chinese Cooking
This Chinese food cookbook showcases acclaimed chef Eileen Yin-Fei Lo's step by step home cooking lessons. Features more than 100 classic Chinese food recipes.
Ninja Master Prep Blender
This Amazon.com top-rated 4 and a half star blender can mince, dice, chop, blend and puree anything you can throw at it, even frozen fruits, while making any Bruce Lee diet smoothie.

Bruce Lee Martial Arts Equipment
Everlast 70-Pound MMA Heavy Bag Kit
This heavy bag kit includes a 70-pound heavy bag stuffed with natural and synthetic fibers blended with sifted sand, gloves, 9' of hand wrap, resistance adjusting bungee cord and an adjustable height customization chain.
Century Original Wavemaster Freestanding Training Bag
This training bag fills with sand or water and has seven height adjustments between 47″ and 68″
Ringside Mexican-Style Boxing Handwrap
If you don't want to break bones or skin while punch training like Bruce Lee, use these hand wraps made of 15' of semi-elastic material with a hook & loop enclosure for quick wrapping. This is an inexpensive piece of training equipment that goes a long way.

Cool Random Bruce Lee Stuff
Bruce Lee Fanatiks Series 2 Scratches Action Figure
This 6-inch toy has 4 points of articulation.
Bruce Lee Sidekick T-Shirt
Yellow 100% cotton fitted t-shirt features a graphic of Bruce Lee kicking really hard. Sweet!

Bruce Lee used a wide variety of exercises including weight training, body strength training, circuit training, isometrics, ab workouts, stretching, diet and cardio fitness. He used the best training equipment available to get that muscular Bruce Lee body in his classic martial arts movies. Bruce Lee's perfect body, wisdom, charisma and kung fu skill inspired books on his life, philosophy & martial arts!

Visit the Bruce Lee Workout homepage for a complete breakdown on all the Bruce Lee training programs. Workout Like Bruce Lee!
 Buy Gear Today for your Bruce Lee Workout!