Bruce Lee Circuit Training
aka Bruce Lee Cross Training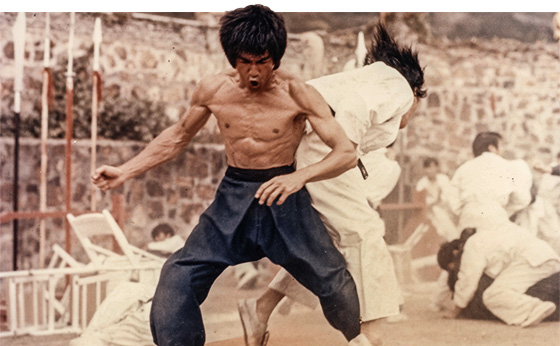 Why did Bruce Lee's body look leaner and more defined in his last film "Enter the Dragon"? Why did each Bruce Lee muscle group standing out in bold relief? 
The sole contributing factor (his diet and cardio fitness activity had not changed) was his December 1972 purchase and use of a multi-exercise weight-training machine called the Marcy Circuit Trainer. He didn't know it then, but Bruce Lee became one of the first cross trainers ever.
What is circuit training?

Circuit training is just exercising with a machine that can accommodate at least 8 to 12 workout stations. Each station represents one exercise. At each station, Bruce Lee would perform a specific exercise with a specific weight resistance for a specific number of repetitions during a 30-60 second time period. With no rest between stations, he went from exercise to exercise (station to station) until the entire circuit was complete.

List of Bruce Lee Circuit Training Exercises
Overhand Pull-ups
Seated Leg Press
Standing Leg Thrusts
Shoulder Press
Standing Calf Raises
Alternating Cable Curls
Standing Unilateral Horizontal Arm Adductions
Bench Press
Squats
Kneeling Lat Pulldowns
Triceps Push-Downs
Running (full pace for 90 seconds)
Standing Wrist Rollers
Neck Flexion/Rotation/Extensions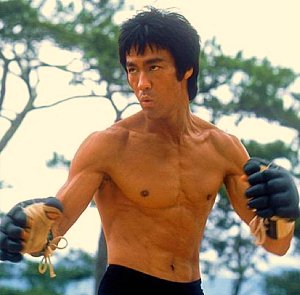 Bruce Lee circuit training unified and consolidated many of Bruce Lee's separate and time-consuming workouts while combining the benefits of weight training, cardio and flexibility into one convenient package. Basically, it maximized the impact of his cross training workout routine and Bruce quickly became the most ripped he'd ever be while filming "Enter the Dragon" just before his passing.
Bruce's cross trainer machine had nine stations or circuits: a bench press, a lat pull-down, two high pulleys, two low pulleys, an isometric rack, a knee-up or leg-raise station, a shoulder press, a chin-up bar
and a leg-press/leg-thrust station.
Nowadays, most Bruce Lee circuit training exercises can be done on a single BoFlex machine or other similar workout station. There's some highly-rated circuit training equipment listed below, but you can also check out the Bruce Lee Equipment section for more modern-day circuit trainers aka cross-training machines.

 Modern Bruce Lee Circuit Training Equipment
Bowflex PR1000 Home Gym
Get a total Bruce Lee body strength workout with this affordable home gym. It provides as little as five or as many as 210 pounds of resistance and features over 30 exercises.
Bowflex Blaze Home Gym
This Home Gym has more than 60 gym-quality exercises. Includes a lower pulley/squat station, a lat tower with angled lat bar, a leg extension/leg curl attachment and 210 pounds of Power Rod Technology resistance (upgradable up to 410 pounds).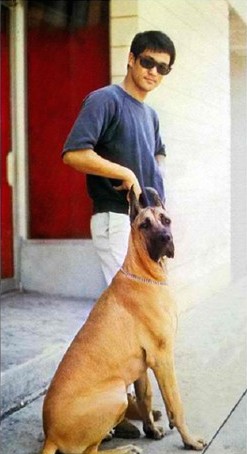 A note to our Bruce Lee Workout readers:
Bruce Lee used a wide variety of exercises including weight training, body strength training, circuit training, isometrics, ab workouts, stretching, diet and cardio fitness. He used the best training equipment available to get that muscular Bruce Lee body in his classic martial arts movies. Bruce Lee's perfect body, wisdom, charisma and kung fu skill inspired books on his life, philosophy & martial arts!

Visit the Bruce Lee Workout homepage for a complete breakdown on all the Bruce Lee training programs and Bruce Lee workout routines. Workout Like Bruce Lee!

Start Bruce Lee Circuit Training Today!