Bruce Lee Fitness
Cardio Workouts for a Bruce Lee Punch,
Bruce Lee Speed and Weight Loss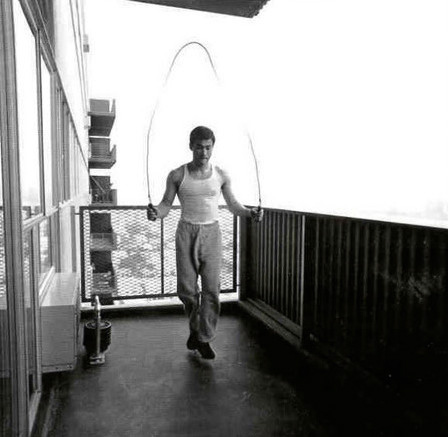 Bruce Lee performed his cardio workouts in many different fashions due to curiosity, boredom and first-hand knowledge of what works. Bruce would use any means necessary to improve his punch strength, speed and fitness. Listed below are many of the Bruce Lee fitness training routines he used to elevate his aerobics stamina and maximize his overall cardio level.
For the convenience of all Bruce Lee speed fitness readers, links to buy modern equivalents of Bruce Lee fitness training equipment from Amazon.com have been added when appropriate. All fitness equipment products listed below have Amazon ratings of at least 4 out of 5 stars.
Start a Bruce Lee Cardio Workout Now!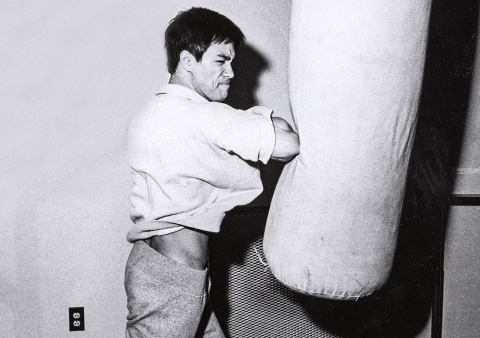 Bruce Lee Fitness Training Routines
Bruce Lee Running
Bruce Lee called running "the king of exercises." Bruce Lee regularly ran four miles on Mondays, Wednesdays and Fridays at a sub seven-minute pace, changing tempo and speed throughout. After a stretch of easy strides, he would sprint fast for a short distance and then resume the easier running. This would raise his heart rate and help develop Bruce Lee cardio and heart strength. He would also sometimes shuffle his feet while running to burn more calories for extra fitness.
The Bruce Lee running routine is very similar to today's interval training techniques. Lee would go jogging anywhere: at a park, beach, forest, hill or paved sidewalk. Bruce Lee ran religiously because, for him, running was a form of meditation, alone in his thoughts, in addition to cardio conditioning and weight loss fitness training.
Running, along with his diet, helped keep Bruce Lee's body fat down and gave him six-pack abs with that lean, shredded and ripped look. A running workout is a surefire way to lose weight and maintain fitness.
Garmin Forerunner 310XT Waterproof GPS Sports Watch
This fitness watch has a high-sensitivity GPS, heart rate monitor, rechargeable 20-hour battery, 2.5-inch LCD display, waterproof (50m) casing and it records your distance, time and pace.
Start Bruce Lee Running Today!

 
Bruce Lee Circuit Training
Occasionally, in order to avoid boredom, Bruce would mix things up with circuit training, a variation of cross training. He would line up 8 to 12 exercise stations and workout at each one for 30-60 seconds, switching between them with little or no rest. Read the Bruce Lee Circuit Training page for more information on Bruce's cross-training fitness workout.
Bowflex PR1000 Home Gym
Get a total Bruce Lee body strength workout with this affordable home gym. It provides as little as five or as many as 210 pounds of resistance and features over 30 exercises.
Bowflex Blaze Home Gym
This Home Gym has more than 60 gym-quality exercises. Includes a lower pulley/squat station, a lat tower with angled lat bar, a leg extension/leg curl attachment and 210 pounds of Power Rod Technology resistance (upgradable up to 410 pounds).

Bruce Lee Jump Rope
Bruce Lee used to jump rope on Tuesdays, Thursdays and Saturdays. A Bruce Lee jump rope workout should last for about 30 minutes of skipping. Sometimes Bruce Lee would jump rope with one leg raised to further develop his balance.
Use jump roping to maintain stamina and develop stronger leg muscles. A jump rope workout helps you stay light on your feet.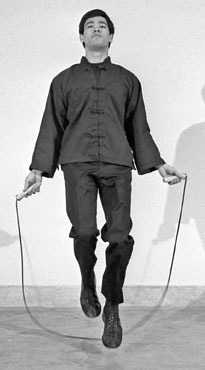 Valeo Jump Rope
This extremely popular fitness jump rope features an adjustable 10' rubber rope, sealed ball bearings and foam weighted handles with removable 1 pound weights.

Bruce Lee Cycling
On Tuesdays, Thursday, and Saturdays, Bruce Lee would follow up his jump rope workout with a high-speed 45-minute stationary cycling session. A Bruce Lee cycling workout is great form of cardiovascular fitness because it allows you to maintain a high heart rate for a long period of time.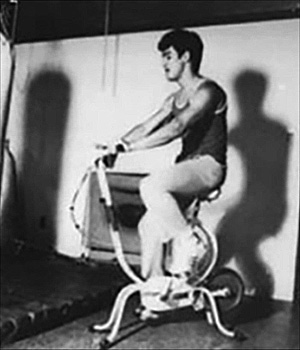 Marcy Upright Mag Cycle
This high-value fitness bike features a smooth magnetic pedaling system with 8 levels of resistance and a large console display that tracks time, distance, speed and calories burned.

Bruce Lee Punch Training
Bruce Lee would punch his fists into buckets of gravel and rocks 500 times a day, treating it as a cardiovascular fitness exercise. This got his heart rate going and toughened up his punch for fighting fury.
Read the Bruce Lee Martial Arts Books section for more Bruce Lee punch training information.

Ringside Mexican-Style Boxing Handwrap
If you don't want to break bones or skin while punch training like Bruce Lee, use these hand wraps made of 15' of semi-elastic material with a hook & loop enclosure for quick wrapping.
Train How To Punch Like Bruce Lee!

Bruce Lee Boxing and Bruce Lee Sparring
Merging martial arts training with cardiovascular fitness work, Bruce would constantly shadow box and spar while sometimes punching with small weights. Bruce Lee would throw 100 punches with increasing weight from 1 pound to 2, 3, 5, 7 and 10 pounds. Then he would use decreasing weight from 10, 7, 5, 3, 2 and 1 pound. Boxing is a good agility exercise that builds up Bruce Lee-type speed for sparring quickly.
Check out the Bruce Lee Martial Arts Books section to buy books on Bruce Lee boxing and punch training.

Century Original Wavemaster Freestanding Training Bag
This fitness training bag fills with sand or water and has seven height adjustments between 47″ and 68″
Try Bruce Lee Sparring At Your Local Dojo!

Bruce Lee Heavy Bag
Bruce Lee would often say that when he punches, kicks and hits a heavy bag, he does not do it passively. Bruce Lee would constantly move, side step and feint while training on a heavy bag to simulate a real battle. This workout sharpened his reflexes, kept his heart rate going and helped maintain his strong punches.
Read the Bruce Lee Martial Arts Books section for more Bruce Lee punch training information.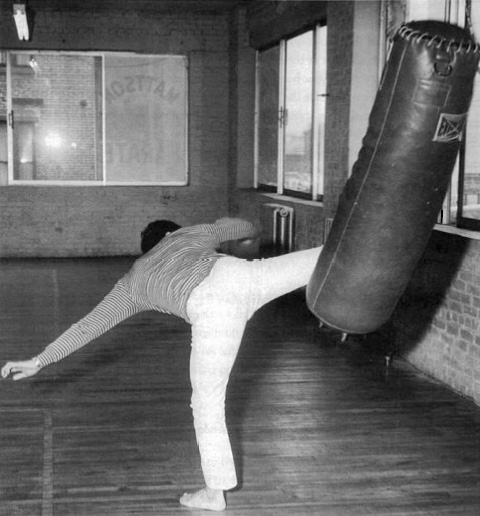 Bruce Lee constantly emphasized the importance of never leaving oneself vulnerable to attack (even while practicing). Bruce Lee believed that a martial artist who did not take practice time seriously would never transfer what he learned in the dojo to the streets. That is why he was so committed to his overall fitness.
Everlast 70-Pound MMA Heavy Bag Kit
This heavy bag kit includes a 70-pound heavy bag stuffed with natural and synthetic fibers blended with sifted sand, gloves, 9' of hand wrap, resistance adjusting bungee cord and an adjustable height customization chain.
Learn Bruce Lee Boxing Info!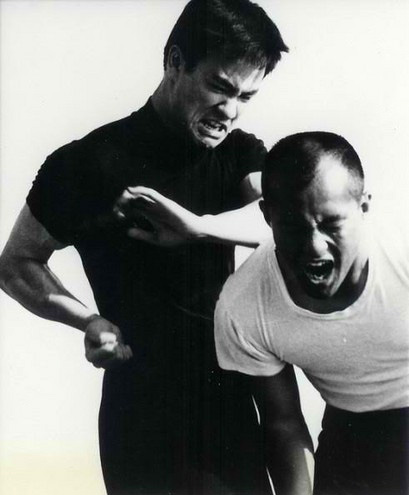 A note to our Bruce Lee fitness training readers:
Bruce Lee used a wide variety of exercises including weight training, body strength training, circuit training, isometrics, ab workouts, stretching, diet and cardio fitness. He used the best training equipment available to get that muscular Bruce Lee body in his classic martial arts movies. Bruce Lee's perfect body, wisdom, charisma and kung fu skill inspired books on his life, philosophy & martial arts!

Visit the Bruce Lee Workout homepage for a complete breakdown on all the Bruce Lee training programs and Bruce Lee workout routines. Workout Like Bruce Lee!

Learn Bruce Lee Fitness!